Council Propose 277 Houses To Be Built Over Special Landscape Area
This Special Landscape Area which separates Pannal from Harrogate is yet again under threat of becoming Harrogate's latest housing estate. We need your help to protect this beautiful green space for your children and future generations.
New draft plan consultation ends on 25th August 2017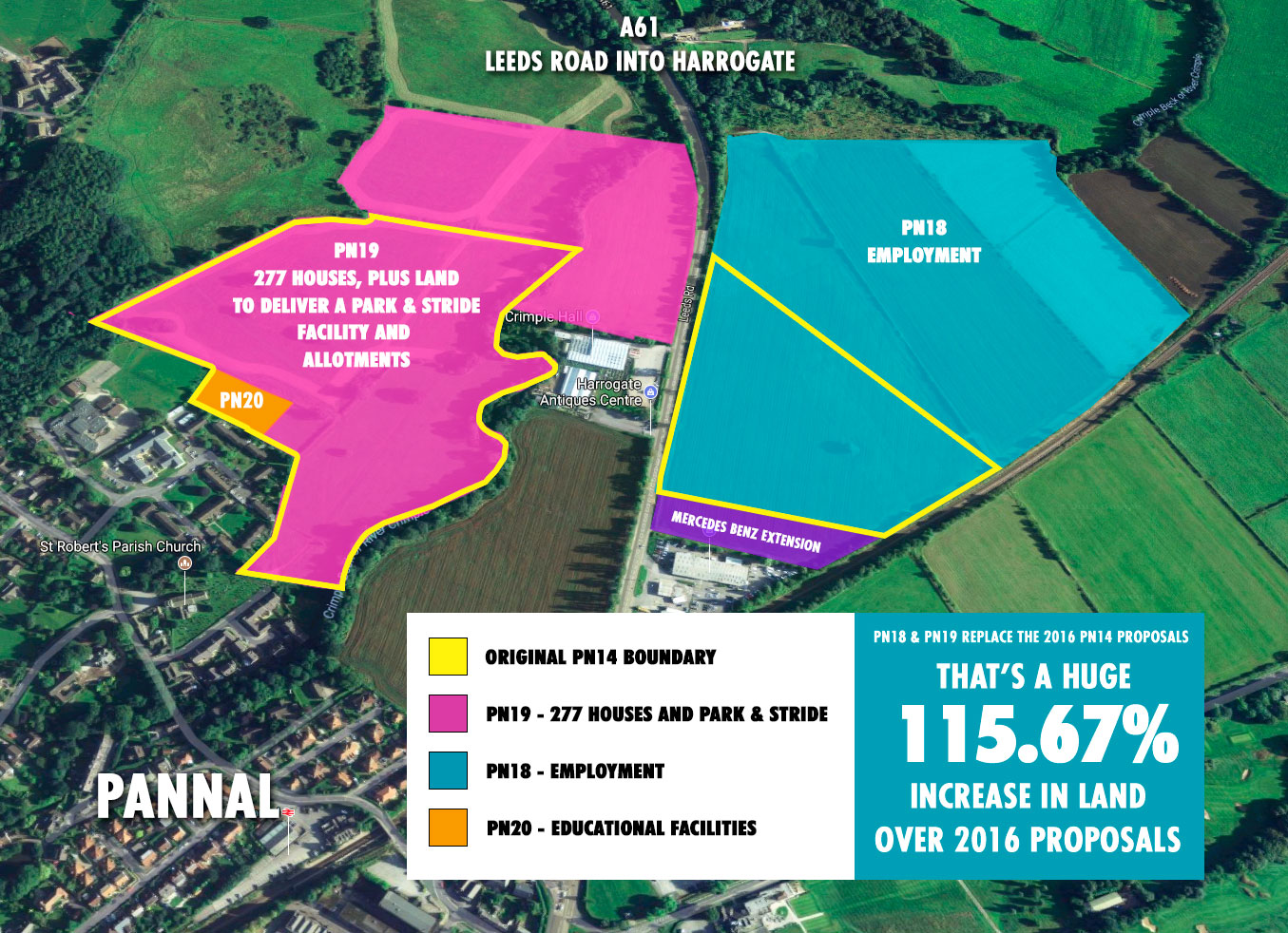 Plans also include PN17 for 72 houses on land adjoining Spring Lane Farm
How can you help?
Make your opinions made on the Harrogate Borough Council planning portal AND Spread the word!.
Build a Strong Argument in response
11th hour addition to local plan
Ill considered last minute addition to local plan which has already been overwhelminly rejected by local residents
The coalescence argument
Keeping Pannal separate from Harrogate. Negative impact on the local community and conservation area.
Special Landscape Area
Harrogate District Landscape Character Assessment (Feb 2004) highlights the Mid-Crimple Valley (in which PN19 and PN18 are located) as an essential green "rural corridor" separating Harrogate from the village of Pannal and others. This would be compromised by the proposed development
Tourism and the approach to Harrogate
The Crimple Valley forms a picturesque backdrop for those entering Harrogate on the main road and rail links into the town. The proposed developments would significantly impact the character and appearance of this landscape, to the detriment of both local residents and the local tourism industry
Traffic
Traffic gridlock is already common on the A61 going through Pannal and Almsford Bank. 227 houses means about 400 additional cars, plus cars and lorries for the 'employment site'. People driving into Harrogate for work will start to find this commute intolerable making it even harder to attract workers into the area.
Slowly permeable, seasonally waterlogged land
The Environment Agency has devised a Flood Risk Map which indicates that part of the area identified for development is at high risk of flooding already and this would be made worse with the development of the area due to the increase in non permeable surfaces.
Negative impact on local wildlife and biodiversity
The area is home to a number of different species of wildlife including deer, foxes, herron, owls, kingfishers, and trout
Agricultural land
Why the NEED for building on a greenfield site as opposed to other sites?
A large amount of development has already been granted in the local area
There are already approved plans to build new houses on the Dunlopillo site in Pannal which should more than adequately meet the needs for housing growth in Pannal.
Building 'creep'
Once building starts on the East side of Leeds Road, it will only be a matter of time before the landowners of the remainder of Crimple Valley get what they wanted: development right along the valley towards the viaduct. Access roads for these new developments coming off Leeds Road can easily be extended further along the Crimple Valley.
These are some suggestions and ideas to draw on when writing a response to the PN19/18/17 plans on the Council Planning Portal. Please note your comments will be publicly visible for all to read once submitted to the Council Portal. All wording must be your own.
You can also submit comments via email or postal mail. If you do this you MUST provide your full postal address or your comments will be rejected.
The Council Planning Portal has proved difficult for people to use and understand. We have provided full details on how to submit comments below.
Don't forget you can also submit comments via email or postal mail. If you do this you MUST provide your full postal address or your comments will be rejected.
Every individual submission counts. Please help to get the word out by sharing this page, asking other people within your household, your local friends, family and neighbours to make their views known.
How to object to the Local Plan
THE DEADLINE FOR COMMENTS EXPIRES AT 4.30PM ON FRIDAY 25 AUGUST 2017
Using the Council Planning Portal
To submit your views using the Council consultation portal you must first login into the planning website; you will not be able to view the questions or enter your comments until you have logged in.
If you have not commented before you will need to register with the Council consultation portal website first. If you are unsure you can use the 'Forgotten Username' option.
How to register
If you do not already have an account you need to register as a Consultee with the Harrogate District Draft Local Plan.
Next complete the Consultee Registration form. When you submit the form you will receive an email from the Council which contains a link you need to click to activate your account. You must click this email link before continuing.
Clicking the email link take you to the login page. You then need to fill in your full name, address, postcode and complete a short survey to continue.
You are now ready to comment on the Local Plan!
The Local Plan is a large document and it can be difficult to identify where you need to comment. The most important places to comment regarding the Crimple Valley are as follows:
How to submit comments
For both of the points above you can view and add your own comments. Simply click Add Comments tab and you will see options to object and comment on the plan.
Don't forget to read through our ideas for building blocks for making a submission. If you can please comment on both points.
You can also submit your comments via email or post if you prefer or if have trouble with the portal. The email address to submit comments to is planningpolicy@harrogate.gov.uk.
The postal address is:
Local Plan consultation
Planning and Development
P.O. Box 787
Harrogate
HG1 9RW
Please make sure you include your full name and address with any comments you submit, comments submitted anonymously, or with only a name and email address will be rejected.
Thank you for supporting Save Crimple Valley. Please remember that every single comment counts and please encourage everyone you know to help save this Special Landscape Area.
Save Crimple Valley Needs Your Help
Save Crimple Valley Group needs help dealing with preparing responses to planning matters. If you feel some commitment towards the Valley and would like to help please contact us.