Update: September 2019
35 Dwellings At Almsford Bank Revised plans submitted again - act now!
Save Crimple Valley is requesting local residents to look carefully at the updated plans submitted by developers and to comment on the Council Planning website. If you have already commented on this application, please reaffirm your objections to this development by commenting again.
It is vitally important to stress that this development will cause demonstrable harm and desecration of the Special Landscape Area.
We have compiled a list of key documents below which we suggest objectors look through and use to base their own comments on. Full details of how to object are also provided below.
Comment before the 10th October to help save the Special Landscape Area.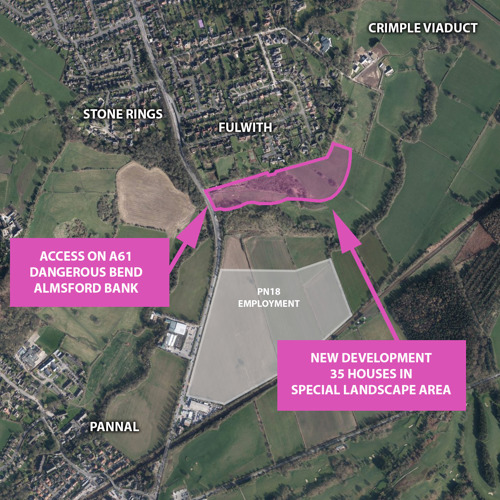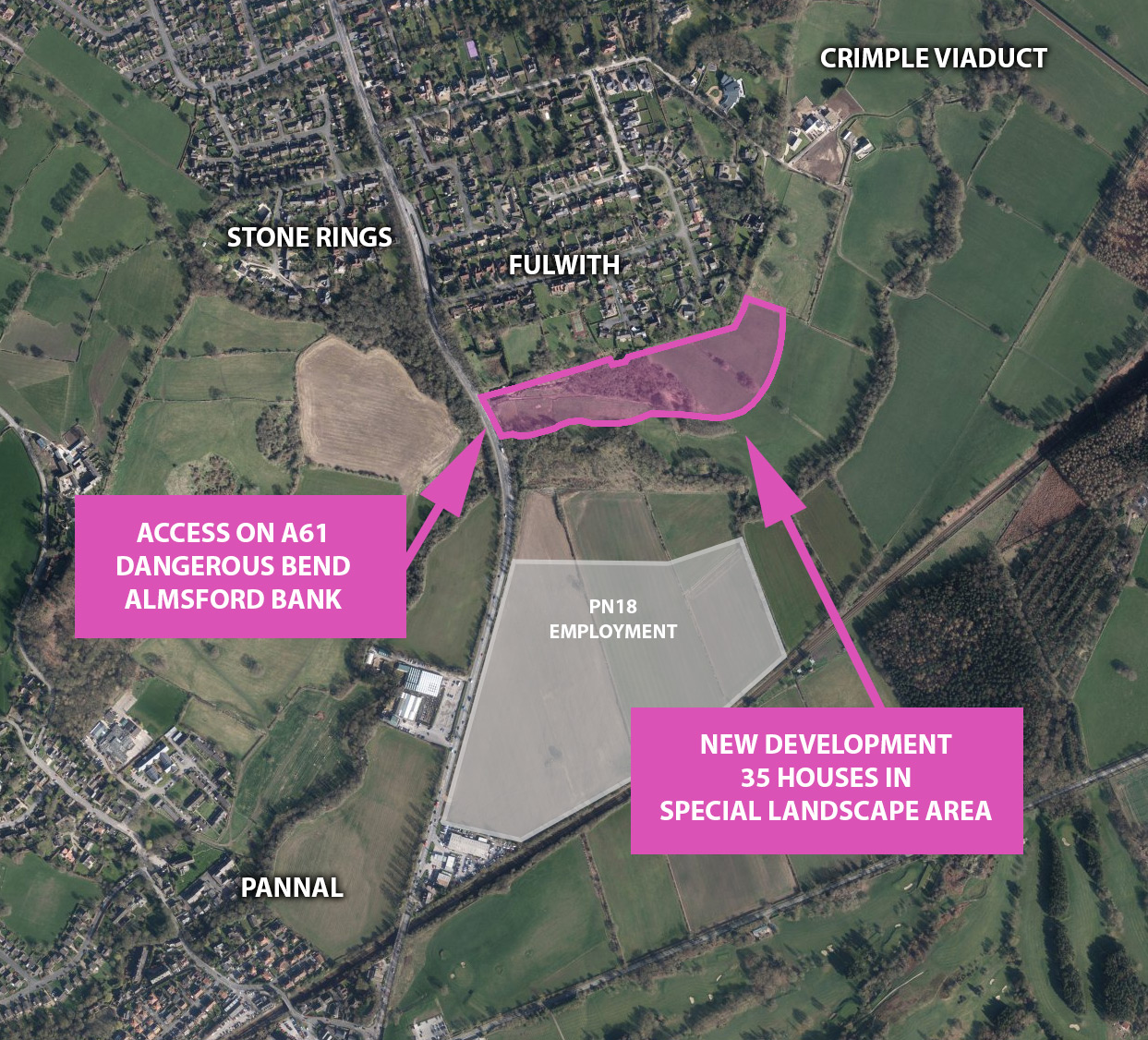 How can you help?
Make your opinions made on the Harrogate Borough Council planning portal AND Spread the word!.
Build a Strong Argument in response
Landscape Character and Setting
The development is outside current and proposed development limits. Under 2001 plan should recognise:
Local distinctiveness
This is a designated Special Landscape Area (SLA)
The setting and approach to Harrogate
Local beauty spot
The need to avoid coalescence and ribbon development
Access
Road safety: Traffic access
Public right of way.
Coalescence
When considered alongside the emerging new Local Plan coalescence becomes inevitable.
Harrogate District Draft Local Plan: Sustainability Appraisal 2016
Site Ref H8 is the plot of land in planning application 18/00912/OUTMAJ for 65 dwellings. This land was found unsuitable for development in the Councils own Sustainability Appraisal 2016. Full details below, click image for original source.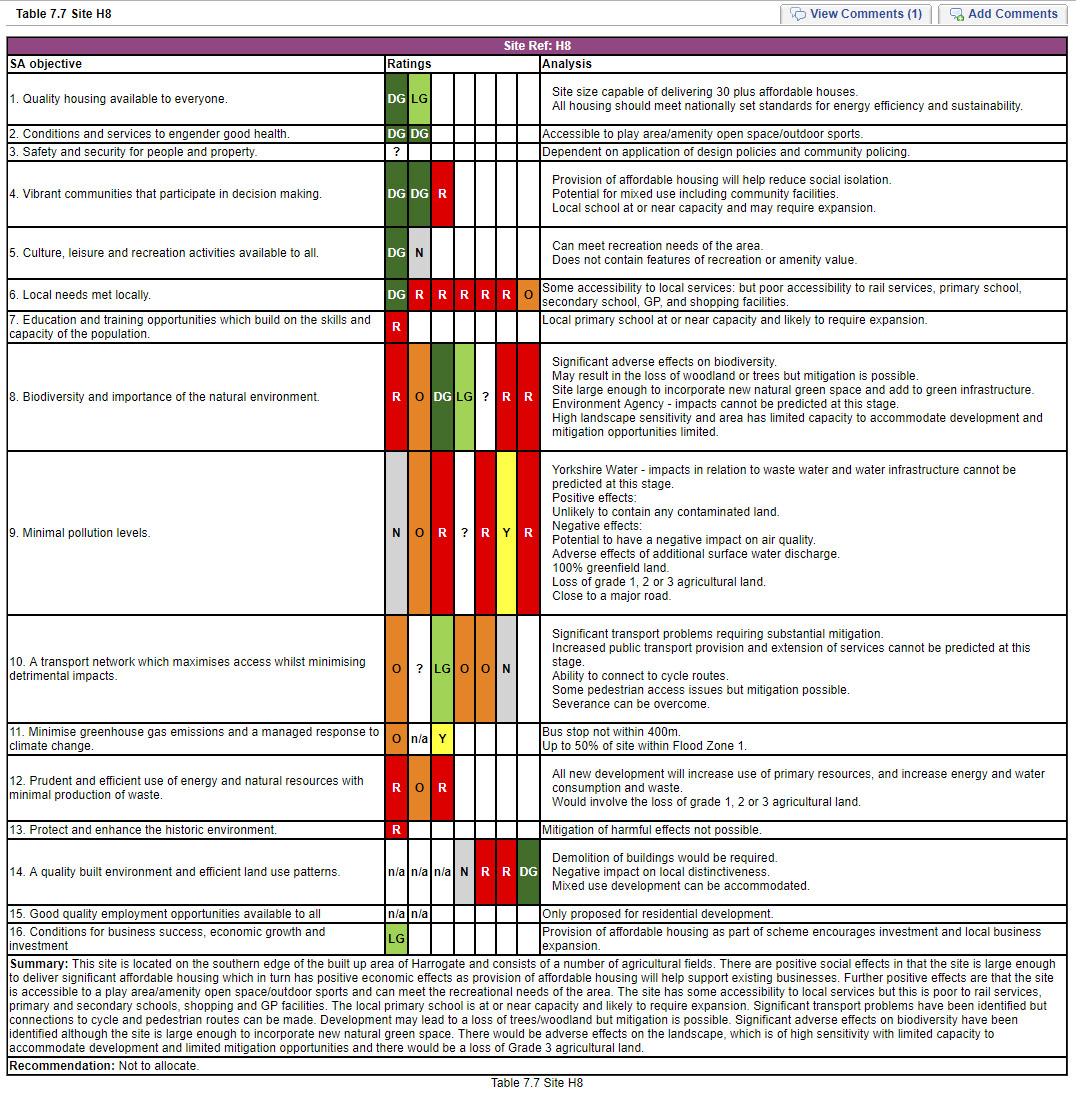 These are some suggestions and ideas to draw on when objecting to 19/03199/FULMAJ | Outline application for the erection of up to 35 dwellings with access considered. Almsford Bank Stables Leeds Road Harrogate HG2 8AA. Please note your comments will be publicly visible for all to read once submitted to the Council Portal. All wording must be your own.
You can also submit comments via email or postal mail. If you do this you MUST provide your full postal address or your comments will be rejected.
The website for this planning application is different from the one used to comment on the Local Plan. Please follow the instructions below.
Every individual submission counts. Please help to get the word out by sharing this page, asking other people within your household, your local friends, family and neighbours to make their views known.
How to object to the New Development
THE DEADLINE FOR COMMENTS EXPIRES AT 10TH OCTOBER 2019.
Using the Council Planning Portal
To comment on this planning application you must register with a different Council website to the Local Plan. Full details on how to register and comment below.
Using the Council Planning Portal
If you do not already have an account you need to register with the Public Access Planning Portal.
Open Planning Portal Registration Page
Follow the 7 steps in the images (right) to register with the planning portal. Click the images to view larger. Once the registration page is complete you need to login. Make sure you can remember your password.
If you do not recieve the confirmation email check your spam/junk folder. If you cannot find it do not hesitate to contact the Council at planningcomments@harrogate.gov.uk.
Login to Planning Portal
Where to comment
You must be logged into the site to comment. If you have trouble loggining in do not hesitate to contact the Council at planningcomments@harrogate.gov.uk.
We advise you draft your comment in Word or an email before posting your comment. You can then copy and paste your comment into the comment box on the application page. There is a limit of 6000 characters.
Open the planning application page by clicking the button below. Click the 'Make a comment' button. See images (right) to see the page, click to enlarge.
Direct link to the Planning Application
Comment by post
You can also submit your comments via email or post if you prefer or if have trouble with the website. However you MUST include your full name and postal address. The email address to submit comments to is planningcomments@harrogate.gov.uk.
To make comments about this application you can write to:
Harrogate Borough Council Planning Services
PO Box 787
Harrogate
HG1 9RW
Deadline for comments
10th October 2019
Please Quote Application Case Number:
19/03199/FULMAJ
Save Crimple Valley Needs Your Help
Save Crimple Valley Group needs help dealing with preparing responses to planning matters. If you feel some commitment towards the Valley and would like to help please contact us.